Heather O'Brien – Physiotherapist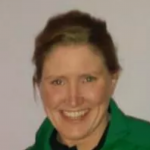 Heather graduated from Queen Margaret University in Edinburgh, a Queens Anniversary prize winning facility, with an Honours degree in Physiotherapy.
Heather started her working life in South Tipperary General Hospital in Clonmel and Our Lady of Lourdes hospital in Drogheda. Whilst working in the public system she also worked in private clinics in Louth and Dublin and with rugby and GAA teams. She travelled with the Irish Basketball teams to the FIBA Junior European Championships in 2007 and worked with the FAI Emerging Talent program in Munster.
Since graduating Heather has completed further study in manual therapy, myofascial and trigger point release therapy, pilates, orthotic prescription and acupuncture. She also treats a variety of women's health conditions, dealing with incontinence, pregnancy related and post-menopausal issues. Heather offers rehabilitation options in the pool or at the local gym where the staff have been most accommodating. Her own strength and conditioning experience places her perfectly to answer any queries with this demanding training.
Heather has a keen interest in sport, playing rugby with Highfield Rugby Club, Munster and Ireland. She was part of the Six nations winning team in 2013 and 2015 and World Cup semi finalist in 2014.
Not content with just rugby accolades she has completed a marathon, climbed Kilimanjaro, Africa's highest peak standing at 5,865 metres above sea level, competed at various equestrian sports going on to teach equitation.
Meet the team at North Cork Physiotherapy & Acupuncture Clinic