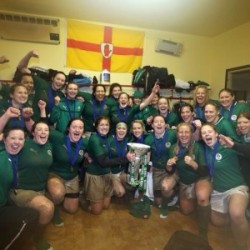 Congratulations to Heather O'Brien and all the ladies in the Irish women's Six Nations team.
Ireland capped off a glorious season in Italy at the weekend, lifting the women's RBS 6 Nations title for the first time ever with a Grand Slam to boot and our very own Heather O'Brien was part of the team.
The game was played in torrential weather, as Ireland travelled with the aim of securing a clean sweep having already secured the title with a win over France – and Italy's loss to England – the weekend before.
It was a game that didn't reflect the kind of rugby that Philip Doyle's Ireland have tried to embody this season, but in the end the Irish coach gratefully accepted the 6-3 win. It capped off a stellar few months for Ireland, who had previously never finished higher than third in the tournament.
Defence and discipline have been key to Ireland's success as the final table shows that they employed the meanest defence of the Championship, conceding a paltry 26 points in five games.
Heather plays club rugby with Highfield and also captained the Munster team this season.